[2018 Dokdo Camp] : Having Dokdo in Mind, Bringing Korea to the World
Students from a wide range of age and background participated in 2018 Dokdo Camp. They were selected as Dokdo camp members based on their performance in previous VANK activities. Representing their towns and schools, they all showed ardent passion for Dokdo and Korea. The three days was long enough for them to get along with one another and become companions of dreams from mere strangers. Then, let's look into the memories of the three days in Ulleung-do&Dokdo and see how meaningful time they built up together as one by sharing their dreams and visions.
By the way, I am Daemyeong Choi, an university student majoring in history. I participated in the camp as VANK(Voluntary Agency Network of Korea) staff. The camp was very meaningful for me as well. As one who wishes to pursue a history-related profession and be an advocate for those 'underrepresented' in history like the Koreans under the Japanese Imperial rule, I was pleased to meet and hear from the students full of ideas and visions to promote Dokdo and Korea. As I forward this article, I will introduce some of the brilliant and enlightening students I met in the camp.
Day 1 (2018.08.08)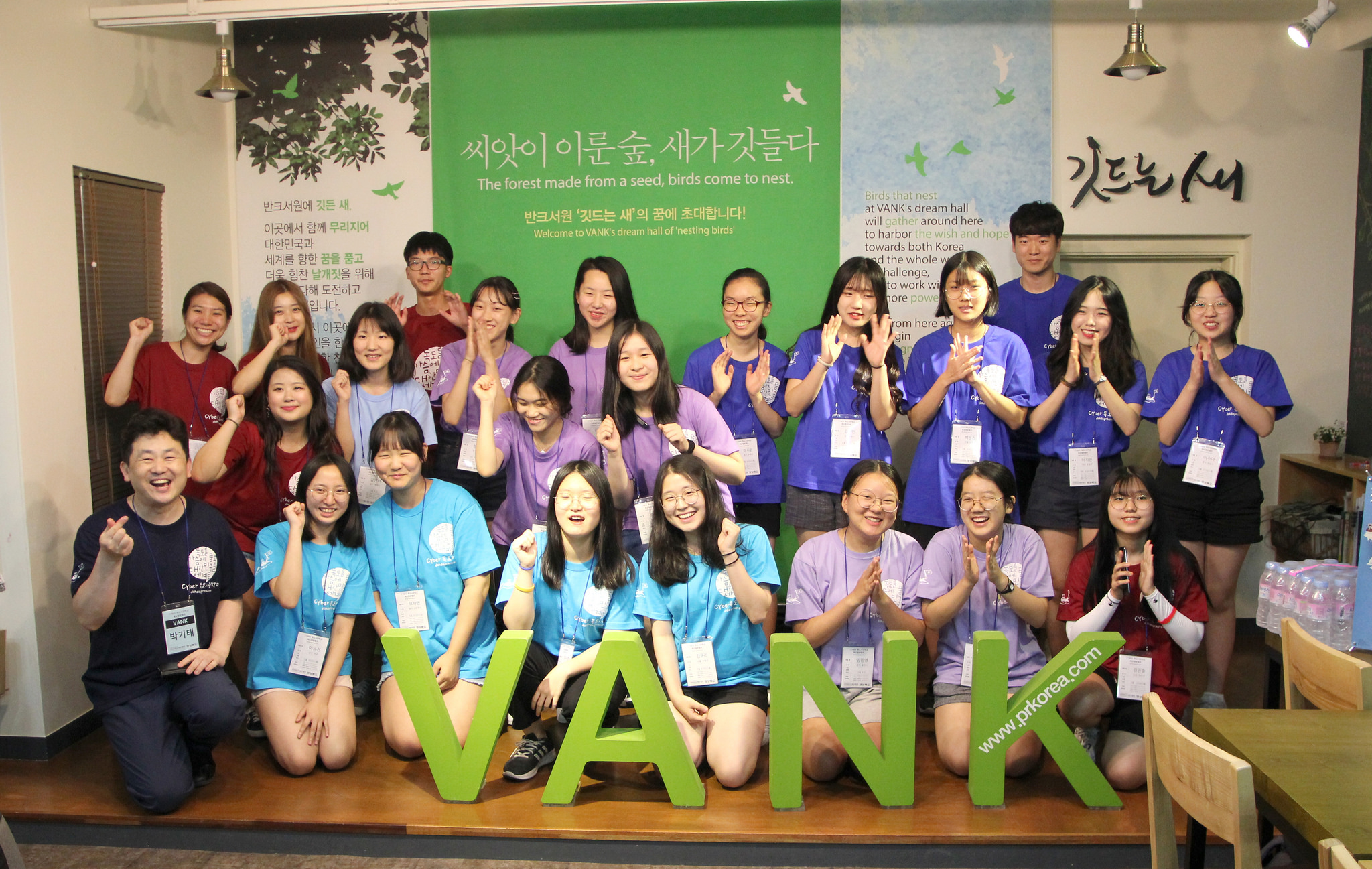 At late night on August 7th, students living near Seoul gathered in Vank Seowon. Briefly after greeting each other in somewhat awkward silence, we got on a bus, which led us to Pohang in several hours. In the morning, the other half group of students arrived and met us at the Pohang Ferry Terminal. In the meantime till the departure, students, divided in six groups, had time to know one another and break the ice.
On the way to Ulleung-do, the weather was clear, but the waves were a bit high, having many of us suffer from sea-sickness during the two and a half hour trip until we finally got to the dock. Right after having lunch then, we moved to the Dokdo Museum, the first territorial museum in Korea that opened in 1997. Guided by a kind and gentle commentator, we viewed through the diverse collection of ancient maps and relics related to Dokdo and East Sea. This was particularly special moment for Jiyun Jeong, a 9th grader from Suwon Middle School, who "became interested in Dokdo" after she "accidentally saw an exhibition about Lee Jong-hak who was the first director of Ulleung Dokdo Museum."
Then, we moved to the Dokdo observatory next to the museum by a cable car. Since it is possible to see Dokdo in sunny and fresh days from the spot, we walked up to the observatory in anticipation of seeing Dokdo in our own eyes. Yet, Dokdo, shrouded by mist, was not visible. Some of us got disappointed, but the beautiful sight of Ulleung-do itself was great and pleasing as well. The two foreign interns in VANK, Diana and Cazz were quite impressed by the view. Diana showed her admiration for "the nature in Ulleung-do (that) is well preserved to date making a harmonious symmetry with modern buildings." Cazz also told her impression as the following, "when I looked over Ulleung-do at the observatory, though I could not see the Korean peninsula, I could see all the people around me speaking in Korean and I could definitely tell I was stepping on a Korean territory." Hoping that it would be possible for us to land on Dokdo the next day, we came down from the observatory and moved to our quarters.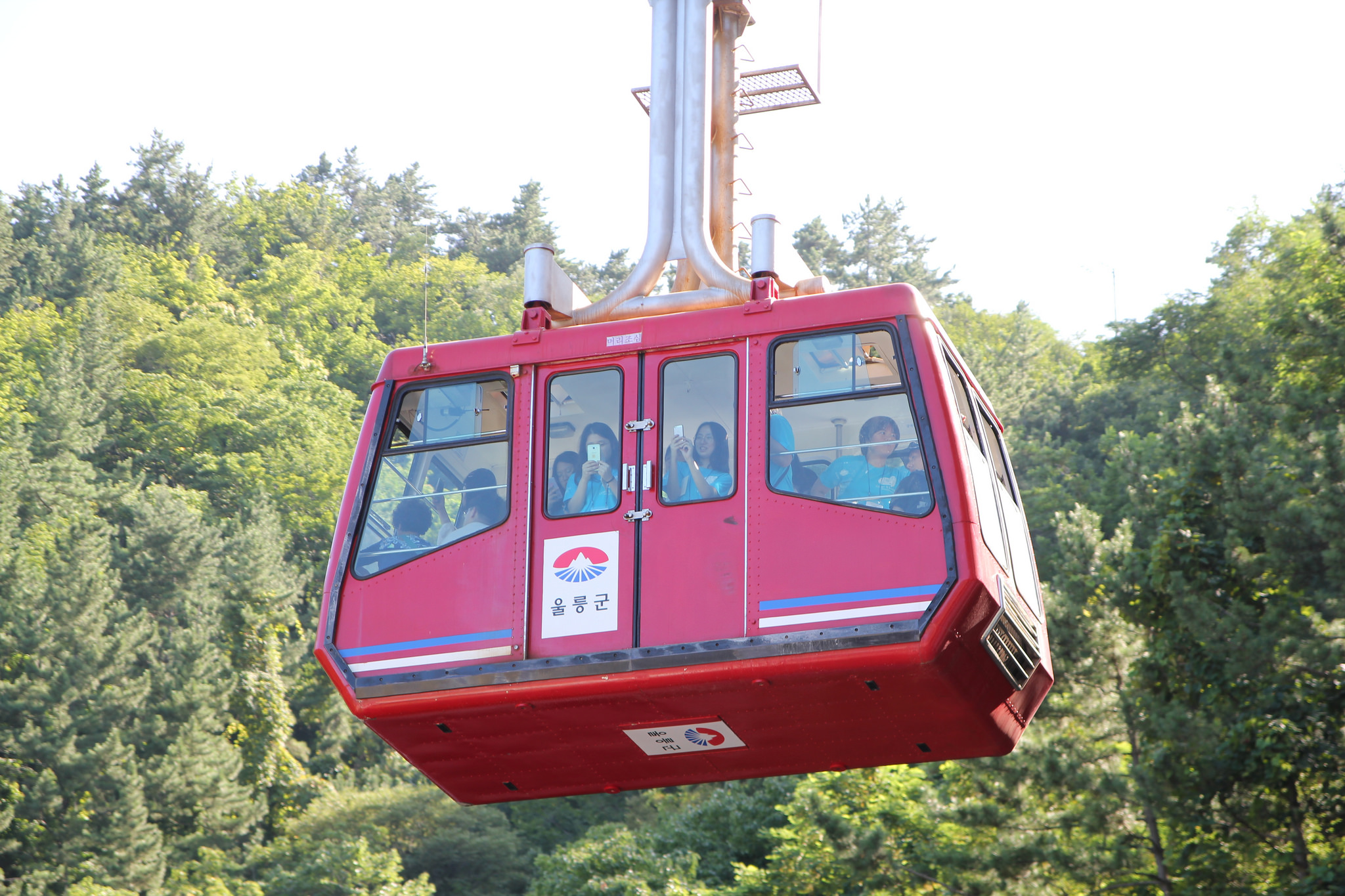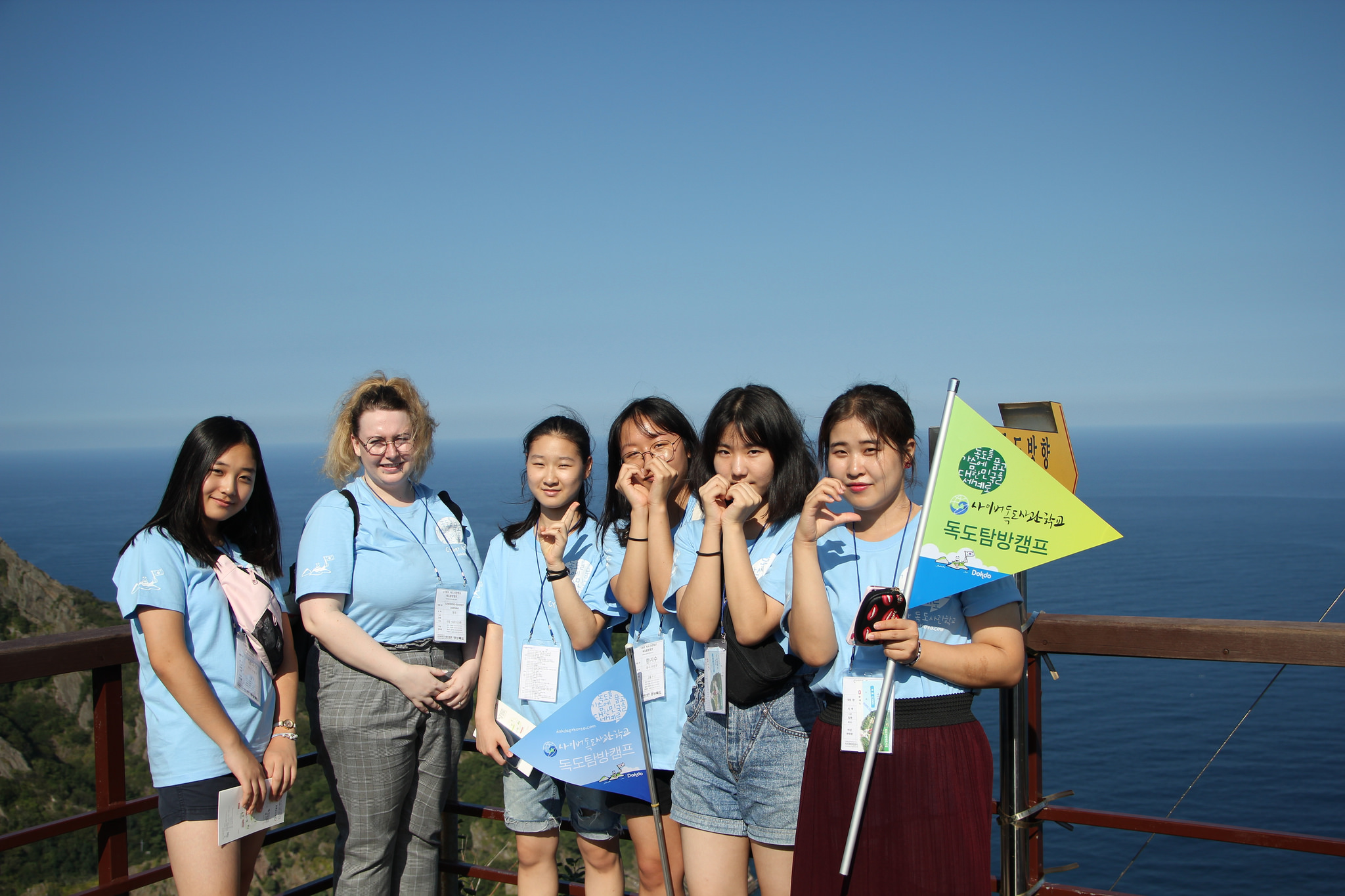 The evening was time for the Team Activity I. The students needed to come up with creative ideas and strategic ways to promote Dokdo in terms of storytelling. In advance to an actual team activity, the head of VANK, Park Gi-tae, addressed his own experiences and efforts to promote Dokdo. He strongly urged that the students themselves need to take action rather than shifting the responsibility to government officials or someone else. Motivated by his lecture, the members started to work on their own ideas.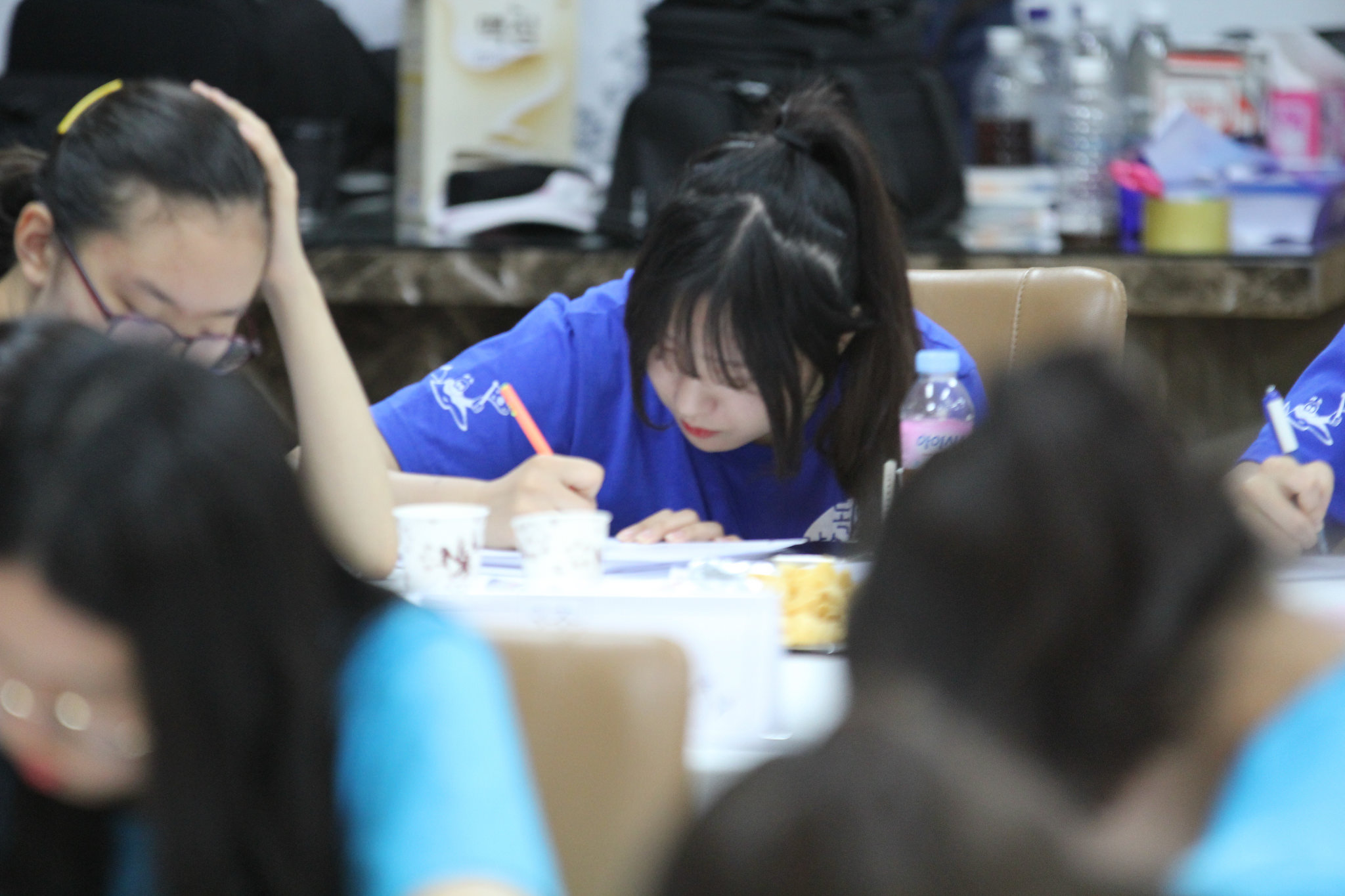 The outcomes were pretty high in quality. Team 1 suggested launching on a SNS project named 'Making Dokdo Challenge' through which people can get to know about Dokdo in a more friendly way. Team 2 thought of making an app that explains historical backgrounds regarding Dokdo in the form of classical stories by recomposing them in the context of Dokdo and connecting the app to an online-mall where people can buy stuff branded in Dokdo. Team 3 went on to suggest promoting Dokdo through K-Pop by commercializing a K-pop cheer stick while Team 4 proposed commercializing 'dolls' that represent the painful history of Korea. In detail, Team 4 suggested linking historical issues like 'comfort women' and 'forced labor' with the dolls and giving a vivid account of the stories related with the dolls. Meanwhile, Team 5 suggested making various kinds of promotion materials like a puzzle, a letter cover, a fan, and a nail sticker. Lastly, Team 6 proposed making a material for the blind such as a 'Dokdo name card' in braille.
Day 2 (2018.08.09)
On the second day, we were busy from the early morning because we were scheduled to visit Dokdo soon. After finishing breakfast in a hurry, We got on board praying that the weather would remain calm so that we could land on Dokdo. Unfortunately, the sea waves were even bigger and more violent than yesterday. It even rained in the middle of the sailing. Yet, as we got closer to Dokdo, the weather got nicer and the waves became softer, allowing us to lay our feet on Dokdo. We could stay for a half hour and save the image of Dokdo in our eyes as well as in cameras. For me, who suffered heavily from sea-sickness, it was even difficult to stand still, but Dokdo was there, and I couldn't help myself being overwhelmed by its magnificent sight.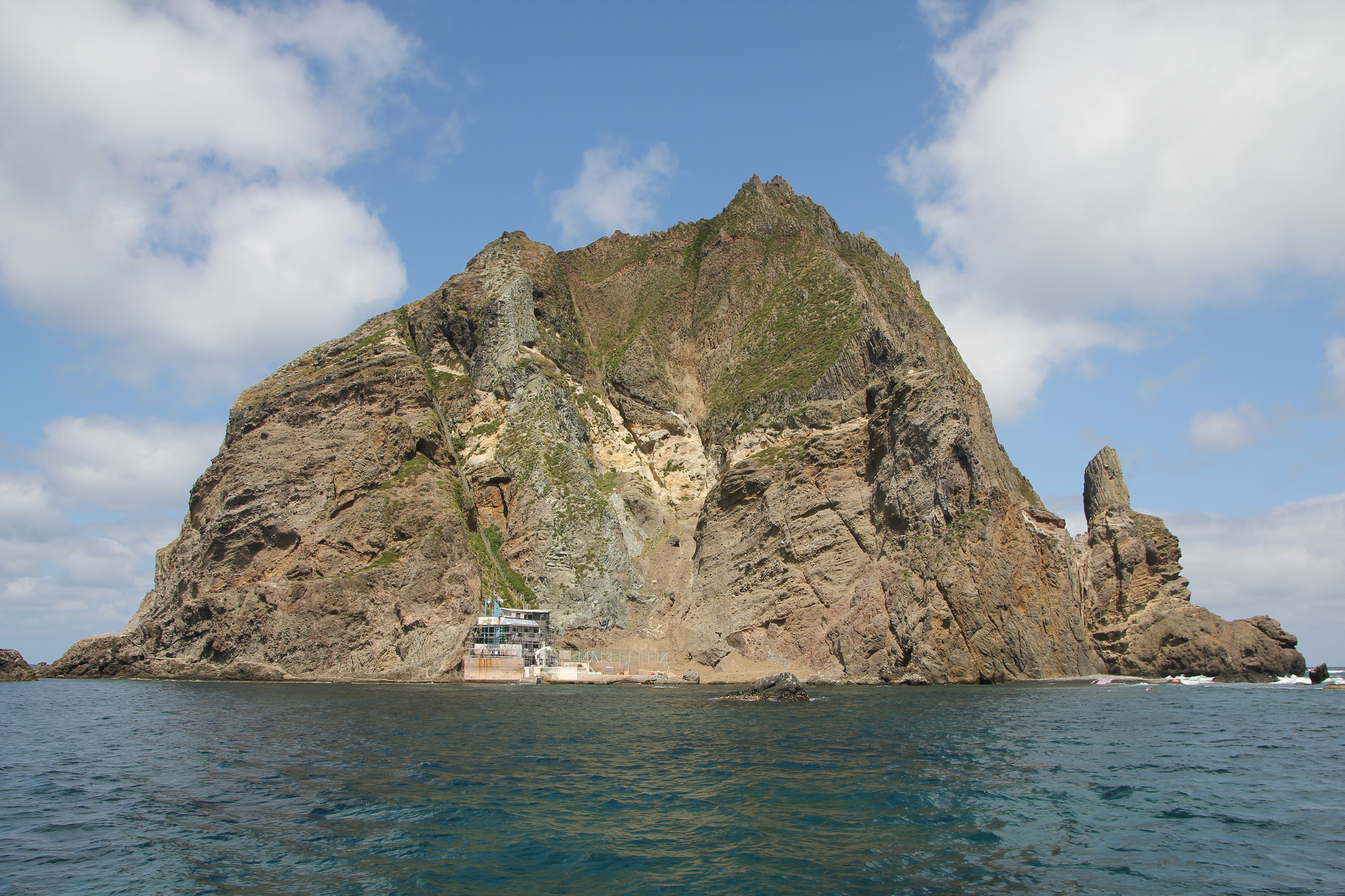 Similarly, the members also felt very close to Dokdo and were impressed a lot. Jiyun said, "the best of all was visiting Dokdo. Even though there was seasick, when I arrived at there, it was very impressive and I became more eager to introduce Korea and Dokdo." For Hyung-geun Park from Youngnam high school, "Three Brothers Cave Rock' was very impressive because the rock, divided into three and combined together as one, seems to represent reconciliation and peace." Yejin Kim from Jeju Girl's Business High School could sympathize with Dokdo's grief. "I came to commit myself to defend Dokdo so that the painful memories of the past would not be repeated", she said.
The way back to Ulleung-do was better. After having lunch, we came back to our quarters and got ready for Team Activity II. It was about addressing the issues regarding Dokdo through various types of performance. Before we got to work, the members were informed that it was important to take a rational approach to the issue in order to persuade the international society. Gi-tae also told of his own story how he organized and performed a play to let people know about the 'comfort women' issue when he went to the US.
Both Team I and III dealt with the issue of "comfort women;" Team I made a play of the comfort women statue in relation to the Holocaust while Team III performed a play through which they developed heated discussions on how to inform the world of Dokdo and comfort women issue. Team II, on the other hand, performed a pantomime and monologue based on a sad tale of one family during the Japanese Occupation Period. They told stories of mom and dad who were taken to Japanese military camps, separated from each other and exploited by Japanese soldiers respectively. Team IV made a parody of the Snow White tale by recomposing it in regard to Korea-Japan relations, especially stressing out what Dokdo symbolizes for the two countries. Team V tried to approach this issue from a different point of view. They introduced the territorial dispute between Japan and Russia over the Kuril islands in their play and related it to the Dokdo issue. Lastly, Team VI made up a play that dealt with the issue of Japan protesting against the inclusion of Dokdo in the unified Korean flag for 2018 Pyeonchang Winter Olympics.
The last program for Day 2 was writing an essay about Dokdo. Each of the students wrote their impression of visiting Dokdo and compared Dokdo to certain objects or notions they feel how Dokdo is like. The best essay was written by Jiyun Jeong, one of our interviewees. The following is an excerpt from her essay.
  Dokdo is a letter that we send to the past. It is a letter that cries for the world to remember the atrocities Imperial Japan did to Koreans, which initiated by illegally annexing Dokdo to the Shimane Prefecture in 1905, and to remember the tears Korean people shed by helping us to get sincere apologies from Japan. ⋯⋯. Dokdo is a letter that we send to the future. It is a letter that asks the future generation to continue our efforts to defend Dokdo.
Day 3 (2018.08.10)
Well, it became the final day of our journey. We had an awarding ceremony complimenting every team and individual for their hard works and participation. After then, we briefly went on a tour of Ulleung-do and came back to Pohang. Everyone could not believe it already became time for farewell. The last three days were such memorable time we could find ourselves together sharing one common dream, that is, having Dokdo in mind, bring Korea to the world. For Yejin Kim, it was time when "students from all parts of Korea could stand together under the same dream." She added, saying "I came to love Dokdo and remember Korean history and culture more deeply thanks to the camp."
Other members also left their impression. Jiyun said, "this camp was a meaningful opportunity for us to remind why we have to remember our history. This camp helped me go closer to my dream to be a diplomat." Minyoung Lim from Yongin Ehyun Middle School also wanted to say thanks for helping her make good memories. For her, "Gi-tae's lecture about how he organized a play about the comfort women statue was very impressive." Minsol Kim from Insung Girl's High School, also left her remark that the camp was very interesting because she could participate herself in the activities. She also said, "To me, Dokdo is like my grandfather who used to tell me about Dokdo. So, I love Dokdo a lot." Lastly, Hyung-geun said, "this was the special moment in my life when I could communicate in one heart with people with different backgrounds."
So, that's it! We had very special three days. It was time for us to share our dreams and hopes. Under the common goal to promote Dokdo and Korea, we could engage each another in the right place at the right time. We intend to build strong mutual relationships as we continue to struggle to achieve our dreams. Thanks, everyone!