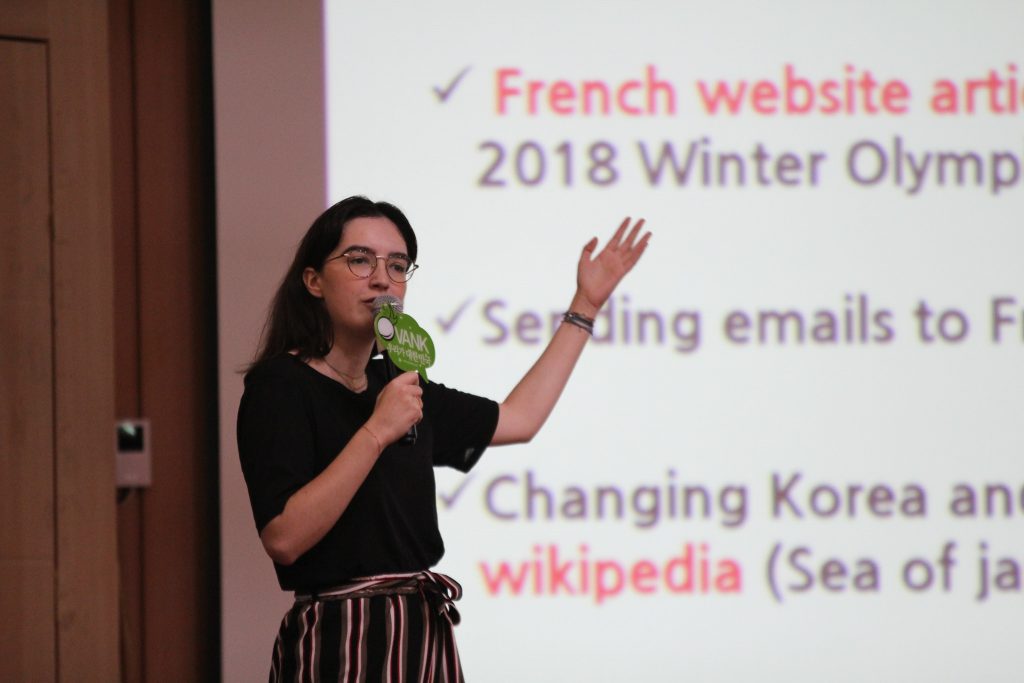 Please give a brief introduction of yourself.
I am Clara Dannepond a French intern at Vank, I am from Paris but I am studying at the university in Milan, Italy. My major is economics and I've always been very interested in foreign countries culture and history.
How did you start interning at VANK?
I was very interested into Korean history and culture when I first came to Korea last year so coming back to Seoul this summer. I wanted to do something meaningful during my time here. I found VANK through the AIESEC portal, a worldwide student organisation providing internships abroad. As I was talking with Vank staff before starting the internship, Vank appealed to me as a peace fighter, and I wanted to be a part of this project.
What were your duties as an intern?
My first job was to create the French website about Korean culture, history and issues. I also had to translate a lot of content form English to French or Italian, for exemple translating in Italian the Korean declaration of independence.
What have you gained from your experience as an intern?
Entering at Vank was my first internship abroad, and I feel like I gained not only a lot of knowledge about Korean culture and history, but also I understood what it is truly to be Korean, the essence of Korean identity. I am now able to understand deeply an other culture which is not my own, so I am one step ahead of becoming global citizen.
During your internship, what were your goals and what did you learn? Did you achieve those goals?
My goals were explained to me by the Vank staff from the beginning. However, they gave me a lot of free space and I could do almost whatever I was interested into. Setting goals at the beginning of the internship was a great way to know where to go and to focus on the most important things. Vank is very active and everything is moving very fast, so a lot of unexpected tasks were coming on a daily basis. It was very interesting work in such a great work environment and I learned a lot for the future. Even if I couldn't do everything I wanted to do because of the lack of time (6 weeks goes very fast), I feel like I did the most I could and I will keep helping VANK in the future.
What did you contribute to VANK's goals?
Spreading rightful information about Korean culture and history around the world is one of the main goal of VANK. Creating the French website to rise awareness about Korean issues and tach about Korea is something that I hope will help VANK aim to create a peaceful and knowledgeable world.
Any advice on promoting Korea, Dokdo, eastsea, jikji, etc?
As a foreigner, it is sometimes very complicated to identify to Koreans issues and history, as I wasn't raised in Korea. However, comparing Korean thoughts and dreams to French dreams helped me a lot to catch the true essence of Korean feelings about Dokdo, the East Sea, Jikji.
Promoting these issues to the world by comparing them to other issues foreigners are familiar with is very helpful, as for exemple comparing the Rising Sun Flag and the Nazi Flag.
Are there any last words you would like to say to VANK?
I would like to say that VANK, as an organisation that helps the world to be a better place, is doing a great job. The staff at VANK is very dedicated to the effort, and working in VANK makes me feel like I have an impact and a voice in this world. The goals of VANK are wide and VANK has big dreams, but all of their goals can be realised because VANK world hard, has great ideas and a lot of young Koreans believe in VANK, symbolizing the Korea of tomorrow.