Gloria Kang – USA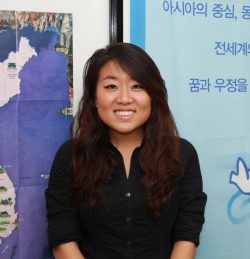 1. Please give a brief introduction of yourself.
My name is Gloria Kang and I am currently a Masters student at the Korean Language Flagship Program. Last year, I completed the abroad portion of my program at Korea University.  While I was in Korea for the year, I also worked as an intern for VANK.
2. How did you start interning at VANK?
My program consists of one year in Korea at Korea University and an internship at an organization that in the field of my interest. I'd always been interested in cultural exchange so before I got to Korea, my Korean language exchange partner recommended VANK to me. He said he didn't really know much about the organization but he thought it'd be a good match for me. When I got to Korea, I heard that another student had also interned at VANK before me. She had had a great experience and I was interested in how they "shared Korea with the world." I felt that VANK would be a great way to really get an understanding of Korea and Korean culture. I went in for an interview and my internship started the following week.
3. What were your duties as an intern?
My main project was the VANK story website. I went through all of VANK's PR materials, websites, book, published works, etc. and in order to provide detailed English descriptions of the various items. I also interview VANK staff, past interns, students, and collaborative organizations in order to provide a comprehensive picture of the various people in VANK, what they do, and the motivations that drive them. Lastly, I covered some of the events both hosted by VANK and co-hosted with other groups.
My second project was managing the Snapshot Korea contest, an online photo contest co-hosted with the Korea Tourism Organization. Anyone from all over the world could submit pictures that reminded them of Korea or Korean culture. It was fascinating to see all the creative entries and the various places they were being submitted from. I was also a team leader for a group of students during the visit to Dokdo and performed as a member of the fan dance team on the school tours trip to Mongolia.
Other minor duties consisted of translating, helping out during events, speaking at off-line events, and offering a foreigner perspective on various projects.
4. Was your internship experience as you expected? Why or why not?
To be completely honest, I had some initial apprehension about VANK because of what I read about VANK on their Wikipedia page. VANK had often been accused of nationalism so I was nervous about not being able to agree with or adjust to the organization's culture. I'm also quite expressive with my opinions so I was wary that this would be a place where I wouldn't be able to voice my perspectives as a foreigner in Korea. However, I quickly learned that my worries were unfounded. The staff immediately welcomed me like family and was very interested to hear about my opinions. They were kind, funny, and loving. Additionally, the information I had been concerned about from the Wikipedia page was extremely outdated and VANK had grown and developed as an organization. What really changed my mind however, were the actual VANK members. Anyone with a general understanding of the life of a typical Korean student knows how much they bogged are down with pressure for academic success. They participate in little to no extracurriculars and often feel lost about their future. VANK students were starkly different. VANK had taught all of them to aspire for goals and dreams that would positively impact their communities, nation, and the global world. They were instilled with the belief that having a dream was not the same as simply obtaining a career and to have pride in who they were as individuals. As they exchanged culture with fellow students around the world and they gained interest in global issues such as poverty and human rights. Most noticeably, during an exercise during the Dokdo trip where students given a task to think of ways to achieve greater peace in Asia, I was surprised to hear the open-minded, innovative, forward-thinking ideas of young students.
5. What have you gained from your experience as an intern?
The greatest things I've gained are my relationships with the people I met. Nearly every single person I met was welcoming, warm, and always incredibly kind to me. They were also so passionate about their desire to make their most of their life and make a difference in the world. I was inspired by the drive I saw in students that were much younger than me and in turn, I was able to reflect on my own personal goals.
I was also able to gain a deeper understanding of Korean culture and history. VANK gave me the opportunity to experience Dokdo, Mongolia, and even Gyeongju, the center of Korean history. Dokdo showed me the significance of the island and why Koreans so valued Dokdo as a symbol of the Korean identity. Mongolia gave me the chance to experience another beautiful culture and create honest relationships despite any language or cultural barriers. Finally, Gyeongju's rich historical culture took me thousands of years into the past with sights and scenes that I will never be able to forget.
These were only a few of the memorable moments at VANK and I believe I was truly lucky for my experience there. I loved going to work every morning and always remember each day as being full of smiles and laughter.
6. Describe some of your short-term and long-term goals.
My short-term goal is to graduate hahaha. Since this might be the end of my academic career, I want to feel that I've done my best so I can finish without any regrets. My long-term goal is similar in that I just want to continue to give my all in the opportunities that come my way and just be someone who makes positive contributions to my communities.