A set of 10 postcards that talk about the diverse and rich culture and history of Korea. There are postcards of famous martial arts like taekwondo and also postcards on cultural objects that are not as well known like the annals of the Joseon Dynasty, which has been registered as a UNESCO Memory of the World.
Learn about diverse cultural facts of Korea and experience the rich culture yourself through these postcards.
King Sejong the Great 
One of the most respected historical figues in Korea, King Sejong helped to evolve Korea dramatically in a positive direction. He is most well known for creating Hangeul, which is a Korean alphabet that has become the standard for the Korean language. He also contributed in many other inventions like a water clock (Jagyeongnu) and a sundial (Angbuilgu) to tell the time of day.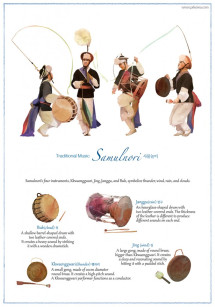 Traditional Music of Korea: Samulnori
Samulnori is a Korean percussion ensemble that originated from Nongak or farmers' folk music. Nongak was developed to raise morale or excitement during group work or for traditional holidays. Samulnori uses only four major percussion instruments, including Kkwaenggwari, Jing, Janggu, and Buk.Since its premier in 1978, Samulnori has gained widespread acclaim and popularity both in Korea and around the world.