2017 Dokdo Camp : Having Dokdo in Mind, Bringing Korea to the World
[2017 Dokdo Camp in Dokdo]
Those people who wanted to share their own story participated in '2017 Dokdo Camp'. They have a wide variety of dreams & ambitions in their mind and have lived to achieve the things that approach to the final destination so that their minds are already strong and hopeful.
[2017 The repoter of Dokdo Camp ]

Hi, I'm Soongyu Kwon and a staff in VANK. I undertook the mission to write a real story in English during this camp. I have interviewed their hopes and supported many VANK officials for 3days (17.07.25~27). I really hoped to interview personal emotions and dreams with most of participants but I could not. This is because I don't have enough experience as a reporter. I think It is a chance for me to learn how to interview with people and write the record in English.
Day 1(2017.07.25)
"A long journey begins with just a single step."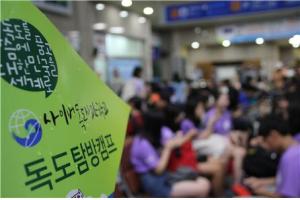 Participants gathered in Pohang Wharf Passenger Terminal at early morning. They came together from all over the county. Some of them came from Seoul on the 24th of July and others came here at that morning. Finally, we met all the members of '2017 Dokdo Camp'. Those who participated in the camp are representative of all the VANK's members so they undertook an important assignment.
It was raining all through that morning. Fortunately, as soon as we board the Sun Flower Ship, It stopped raining. All of people were happy and looking forward to visiting Ulleungdo & Dokdo. Unlike VANK officials were worried, they got on well with each other easily.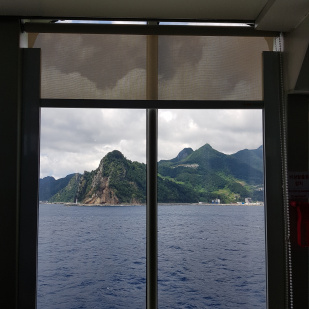 After we departed from Pohang, It took about 3hours to Ulleungdo. As soon as we arrived at Ulleungdo, we had Ulleungdo Cuisine 'Honghapbap' for lunch that was prepared by mixing steamed rice with mussels and seasoning. It has been introduced with postcard in VANK. After lunch, we headed to Dokdo Museum & Sigaji Observatory.
We were separated into two groups and started off to explore. The group A and I went to Dokdo Museum first and then went to Sigaji Observatory. Dokdo Museum opened on August 8, 1997 in order to research, educate and exhibit on the diverse areas of Dokdo particularly in its history and culture. As Korea`s first territory museum, Dokdo Museum will actively promote the history and culture of Dokdo to the world and take a leading role in research and education on the island. We were accompanied by a Dokdo Museum tour guide. She explained Dokdo's cultural, economic value with historical evidence and encouraged our activities to protect the national sovereignty and pride. It was meaningful time to organize our thoughts about Dokdo and we became to be able to deal with the problems more clearly than any other people.
Next, we went to Sigaji Observatory to see Dokdo. There was a sign that let people know where is Dokdo from Dokdo Observatory. We heard that we can visually find faraway Dokdo when It's an really fine day. we were looking for seeing Dokdo but It was not there. Unfortunately, It was been foggy on the sea. However, the view toward Dokdo was perfect. We felt the fresh air for 15 minutes and went to accommodation to have dinner and unpacked our luggage.
At last, we came together to prepare a team presentation. Before starting activities, we had a worthful lecture to help us to understand more easily from the leader 'Gitae Park'. He told us his own story about how did he found VANK. He wondered why many foreigners don't know about Korea and really hoped to change that situation. That is the reason why he founded VANK for Korea. In common with many other people, He also thought "Can one small my idea change the world?" but he always tried to do his best and grow many teenager honorary ambassadors. He proved that "Your efforts will never betray you!" as you can see current VANK. He made many participants more confident to do their best through this lecture.
Following that, Sungeun Park who is a official of Gyeongsangbuk-do Dokdo Policy Division cheered for participants. He encouraged our activities and, in fact, that helped us when we resolved the problems. Futhermore, he said "I'm happy to work with VANK because many korean teenagers get to know the historical fact of Dokdo and try to revise the wrong history in the world through VANK" and then "I'm worry about losing my job because of you guys who are working hard for Dokdo! Haha I meant it for a joke! Thanks to VANK and guys, Korea is getting bigger and more trustful".
Then, after we took lectures, they were given few minutes to discuss a topic and got the point in order to deliver the thoughts. They tried to judge a topic from the perspective of world and consider how to tell officials to resolve this problem as if they are the Minister of Foreign Affairs and Trades. After a couple of minutes, in spite of not enough time, surprisingly they told their ideas from different points of views and shared own their ways settling a conflict. Finally, the first day successfully ended!!
I made some questions for '2017 Dokdo Camp' and asked them to four people who are Sumin Ahn(SM), Donghyun Yoon(DH), Jisun Choi(JS), and (Heeji(HJ) Kim). Each day, I'm going to share some of their own stories at the back side of writing.

[interview]
Reporter SG : Let me know your name, where you're belonging to and How do you find out VANK?
SM : Hi, I'm Su Min Ahn, a student of Sahmyook University. I went to the University after I graduated from high school. I met 'Ji Yun Ryu' who is a member of the team 3. she found the promotion materials of VANK, recommended me to join VANK so we signed up, participated in the program that get to know about Dokdo & East Sea. Finally, I became 'The 9th Global honorary ambassador for Dokdo' this year.
DH : Glad to meet you. I'm Dong Hyun Yoon, a student of Chonnam National University. I'm studying history and making Historical Cultural Contents by myself. I was looking for the program related to contents when I found 'The 9th Global honorary ambassador for Dokdo'. That was the first time I've done and then I carried out the mission as 'The 9th Global honorary ambassador for Dokdo'.
JS : Hi, I'm Ji Sun Choi, a senior in Kookmin University studying a law department. I was chosen to be an exchange student so I went to Florida, U.S for second semester in 2015. At that time, I've experienced sad things relating to Korea. When I was in school, American born and raised in U.S didn't know where Korea is, what a country is and what kinds of history they have. I didn't expect that kinds of situations. I was absolutely shocked. I didn't like myself because I couldn't describe anything about my country. After I finished studying in U.S, I went back my country. As soon as I arrived in Korea, I started to look for organizations that teach people Korean history. As a result, I found VANK and signed up. Actually, I've heard of VANK before but I wasn't interested in VANK.
HJ : Hello, I'm Heeji Kim, a student of Suncheon Palma High School. I got to know VANK through the club of school. Among There are a leader and a vice-leader of the club among my friends so I've heard what kinds of activities they do from them. One day, an official document that was written by VANK came to school. That was the notice to gather the members of 'The 6th digital diplomacy ambassador for Dokdo' so I signed up and applied for 'The 6th digital diplomacy ambassador for Dokdo'
Reporter SG : Could you tell me your own story you've done for Dokdo & East sea?
SM : The process of carrying out some missions for 'The 9th Global honorary ambassador for Dokdo', I went to Gyeongbok Palace that was built in the Joseon Dynasty era with my friends. At the moment, I was wearing Hanbok that is Korean traditional clothes. I prepared some promotion materials for foreigners and gave foreigners that. Many foreigners were happy to get these promotion material and said "Thank you! It's a really good opportunity to know Dokdo & East Sea. I haven't ever experienced like you for my country. I'm rooting for you."
DH : When I was a sophomore in high school, I was a member of 'F.B.I' which is a debate club of Gwangju Inseong High School. At that time, many Koreans were highly interested in Dokdo because The Japanese Education Ministry, which is in charge of revising the nation's school curriculum, has rewritten classroom textbooks to define the disputed islands, called Takeshima in Japanese, as their country's territory. We wanted to make people aware of these problems so we organized a flash mob for Dokdo.
JS : I was studying in Florida, U.S. When I went to the New York Library, I saw a map here. There were some mistakes about the name of Sea. East Sea was written in Sea of Japan. I wanted to fix it correctly but I didn't know how to do so I took a picture of that part and went back Korea. As previously said, I found VANK and learnt how to fix it correctly through 'The 9th Global honorary ambassador for Dokdo'. During the process of the mission, I made a decision to resolve this problem. I studied how to write corrective letter and then sent it to the New York officials. Unfortunately, they didn't reply to email.
---
Day 2(2017.07.26.)
"We were walking on air & We were on cloud nine."
I've heard that It was raining in Dokdo on first day but fortunately the weather was extremely sunny on the second day. It was perfect!! We headed to Dokdo with happiness. We boarded the Pyonghwao ship which is service only government officials' execution of duties in order to visit Dokdo. It takes two and a half hours from Ulleungdo. Although there was a strong current in the sea, the wave couldn't stop us to go to Dokdo. Finally, we reached Dokdo at 11 o'clock and one hour was given to us.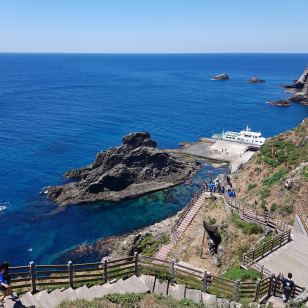 We went to the eastern island of Dokdo where maritime polices are working. They greeted us warmly and guided us through many stairs to go to maritime police station. We could see the beautiful scenery and also felt fresh air there. It was off limit to the public at all times. Thanks to VANK & Gyeongsangbuk-do officials, we were able to visit Dokdo as a public officials and also get to a restricted area. It seemed like our first step as a real honorary ambassador for Dokdo. At a word, It was an unforgettable experience.
We recollected our mind and went back to Ulleungdo because we had many tasks to find solutions to problems. After boarding the ship for two and a half hours, we came together at seminar room to discuss with each other. The beginning of the tasks, we reminded yesterday's activities and then started to do new activities. The mission of the second day was to write a play and to enact it. First, they made a decision how situation do they describe. Second, they set up a strategy to persuade the official of company suggesting how to revise the wrong information. Third, they composed story frame and catched the point of play to tell audiences certainly.
A couple of hours later, we acted a play. All of the members thought outside of the box. Sungeun Park specially said, "It absolutely seemed that it happened. It's amazing. It was the same us to try to revise the wrong history and to send a corrective letter and was a opportunity to show how smart you will became in the future. I'm proud of you guys than yesterday."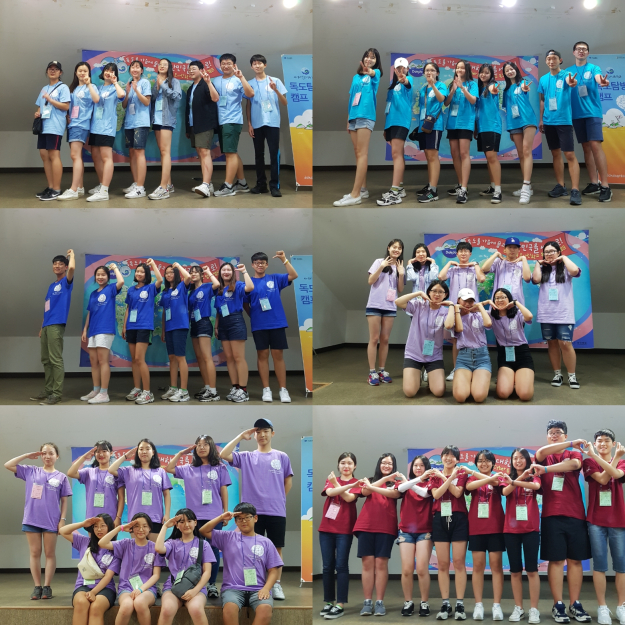 After that, we wrote our own story about visiting Dokdo. It was a next mission of the second day. Every participant thought of the whole second day. I really love the atmosphere because It's a time to organize our thoughts during 2017 Dokdo camp. All of participants focused on writing and filled out their papers. After thinking of Dokdo, we took a picture all together for the second day.
[Interview]
Reporter SG : Why did you participate in '2017 Dokdo Camp' even spending your time?
SM : I thought that as a Korean, I should go to Dokdo once. After 'The 9th Global honorary ambassador for Dokdo', I got a chance to go to Dokdo and catched it because, if I miss this chance, I wouldn't go to Dokdo ever so I tried to participate in '2017 Dokdo Camp'.
DH : It's my dream. One of the bucket lists is to go to Dokdo. After taking the KSAT, I've been looking for the best way to get to Dokdo every couple of years. This time, I participated in the program that is 'The 9th Global honorary ambassador for Dokdo'. I tried to carry out all of the missions. After that, I won for best 'The 9th Global honorary ambassador for Dokdo' and also got a chance to visit Dokdo.
JS : I'm a senior in University. I will graduate soon and work as an intern so I thought this is the last chance as a student of University. On the one hand, I really hope to see the VANK's leader and ask him where his confidence comes from. He started from a small group. The small group grew into one of the most influential organizations in Korea. Therefore, I became confident and made me think that I can do everything on my field wherever and whenever.
HJ : I applied for Dokdo Camp with worry about fail but It came up smelling like a rose. I went to take a class of 'The 6th digital diplomacy ambassador for Dokdo' from Suncheon to National Museum of Korea. The mission were to make UCC for Dokdo. I haven't ever recorded UCC. I asked my friend how to make and then I stayed up all night to made UCC. Finally, I made it. I did not want my effort to go to waste. Actually, It was examination period, when I carried out the mission. However, It was a good choice so that I could not stop the missions. If I stopped the missions, I couldn't meet Those who cheer for each other and feel the fresh air of Dokdo.
Reporter SG : What have you learnt during '2017 Dokdo Camp'?
SM : I met many people who are from different places in Korea. To be honest, I f딧 difficult to be close with a person I've met first time but I learned how to get on well with people through '2017 Dokdo Camp', and It was a chance to think that Dokdo is not too far from us and we can reach Dokdo easily so I'll go to Dokdo again with my family on holiday.
DH : As previously said, I'm making Historical Cultural Contents myself. After finishing studying, I'll also continue to produce content so I always think about it. I think It's the best opportunity to get to know how to prepare program like '2017 Dokdo Camp'. Therefore, I tried to find new topic among many contents and paid close attention to how staffs deal with many problems.
JS : Let me say just one or two words, I learnt the passions of young people. It's a common phrase but I mean it. I haven't ever promoted Dokdo as a Korean territory the same those who participated in this camp. They work really hard until now. I couldn't help but think back to my high school days. It's a opportunity to reflect on myself so I make sure that I'll continue to promote Dokdo to the world.
---
Day 3(2017.07.27.)
"Man's feeling are always purest and most glowing in the hour of meeting and of farewell."
It's the last day of '2017 Dokdo Camp'. Most of participants stayed up nights to talk each other. Although It was really tired, we met everyone actively. we gathered in seminar room for winding '2017 Dokdo Camp' up. We hosted the award ceremony for result of activities during '2017 Dokdo Camp' before starting to travel around Ulleungdo. The award ceremony category is two fields that are the essay for Dokdo and Team Activity. 'Young Ju Lim' won the top prize in the essay for Dokdo. She described her own feelings of looking at Dokdo and presented it in glasses.
"If I'm wearing 'Dokdo glasses', surprisingly we can put new animals and plants and clear nature. However, Many people don't like to wear glasses because It's uncomfortable. That is why difficult historical facts and an old wound are seen. I'll fix it precisely and smooth wound while I'm wearing Dokdo glasses."
As you can read, we thought that she deserves the award. Also, other winners expressed their own feelings and ideas, so they deserved the award. Next, we awarded a prize to the team. The second day, we had a presentation to demonstrate fixing a distorted history and sea of Japan correctly. We were unable to evaluate their presentations because every team, each member enthusiastically moved their topic into an actual situation in order to resolve the problems. Therefore, we awarded all of the teams but there was a little bit of differences between prizes.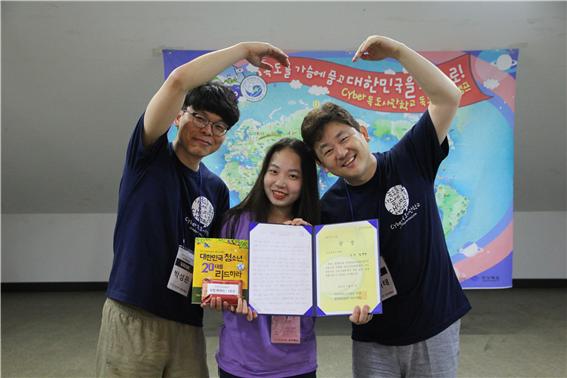 After the award ceremony, we prepared to depart and got on the bus to go to Korea Institute Of Ocean Science & Technology(KIOST) in Daepunggam Coast, Ulleungdo. The KIOST research on ocean resources and related applications and commercialization of such resources for the development of marine science and technology and the marine industry. We got a opportunity to take a valuable lecture specially 'Dokdo' from officials.
According to expert, Climate change and the alarming rate of biodiversity loss worldwide are the most critical environment challenges society faces today. One of the most important factors for overall ocean health is ocean biodiversity so the KIOST was made and researching on ocean of Ulleungdo & Dokdo. They already had strategy and action plan for conserving ecological value and natural beauty of Ulleungdo & Dokdo. It made all of us think that conserving biodiversity cannot be thought afterward. It was a chance to learn a perspective considering ecological value as well as the historical accuracy to us. They suggested paradigm to us.
[Interview]
Specially, I put the interview story here because of the last day. The last question whoever can guess is 'what is Dokdo in your mind?'
Reporter SG : What is Dokdo in your mind? (Please, Express Dokdo own your way)
SM : It is a good thing to show opposite nations(Japan) the strong image as Korean territory and It's constant Korean territory. On the other hand, after visiting Dokdo, I thought that we seem to destroy the nesting birds, other animals and plants. Originally, Dokdo is not a human's thing. That is owned by nature. Because of human greed, that was taken as a possession of the land and It's getting vulnerable so I hope that after Japan makes a polite apology, we must try to restore nature to its original condition.
DH : Dokdo is the most important topic for me. It can be convened at any time, whenever It is threatened by Japan. That means Dokdo has influenced on Korean. At another point, The Lonely Planet that has real influence over the world introduced Ulleungdo to the world as The World's Best Secret Islands so I thought It would be great way to let people know that Dokdo is nearby Ulleungdo and that is Korean territory. I'll try to show many people the historical facts until Japan gives up all of things.
JS : There are many territorial disputes in the world but I think that it is not the same. Dokdo is not a simple territorial dispute but a matter of the national sovereignty and pride. I'd like people to think Dokdo is not a small islet in Korea but Dokdo & Korea are equal. I'll do my best until people know the historical fact of Dokdo and East Sea.
HJ : I called my parents before I got off the ship in Dokdo. They were proud of me to go to Dokdo as a Korean so I hoped to see the view of Dokdo but I couldn't. There were some problems to connect each other. I was really sad. After finishing calling my parents, I took a picture and sent them many photos I've taken. They were really happy and then I promised to come here with them Later. Therefore, Dokdo is 'promise' for me. I really want to come again with my parents and hope that Dokdo becomes to be famous island of Korea whoever people want to come here.
At the end of the interview for 3 days. Thanks for answering a couple of questions and sharing your own stories. It would be good materials to show people the purpose of Dokdo Camp and the reason to continue to next year.
---
We spent a half hour to make up our mind here and transferred to Nari Basin. It's known as the only plain in Ulleungdo. We had 'Wild Vegetable Bibimbap' for lunch and, after that, took a break a couple of minutes in Nari Basin Playground. It seemed that everyone went back to childhood. After we moderately smelled the roses, we've travelled from Nari Basin to Ulleungdo Wharf Passenger Terminal which is the final destination on '2017 Dokdo Camp'. Finally, Dokdo Camp of this year also successfully ended in safety. Every participant and official worked hard for three-days.
You know, there is a saying "Man's feeling are always purest and most glowing in the hour of meeting and of farewell.". We were unwilling to part with all of members. The meaning of word, we felt very sad and our hearts were chocked with emotion. We parted with a promise to meet again in another campaign of VANK.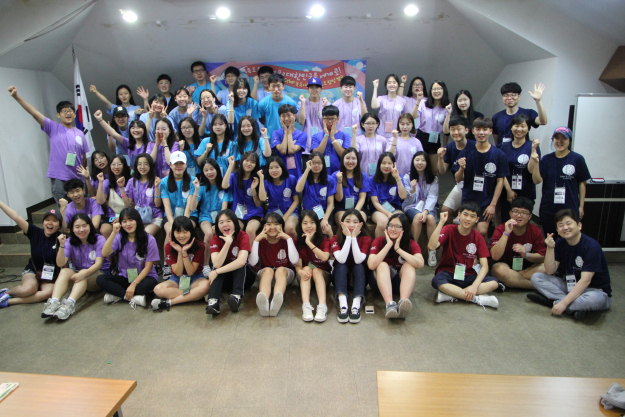 Those people who want to share their own story participated in 2017 Dokdo Camp. They explored and discovered Ulleungdo & Dokdo. As a result, they became closer to their final destination. They'll continue to try to do their best. We trust them and are waiting for them. Thank you!!!