<My first week in VANK> 2014.1.27
* Rebecca (Chen zhijun)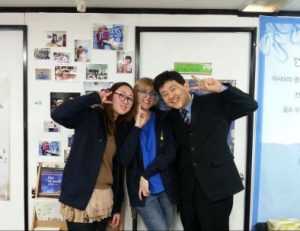 What I have done:
Visiting  vank website to know more about vank.
Study Korean history, culture and etc. by attending online.
Register to prkorean.com and watch videos, write down my feeling about these videos.
Read the book "May we speak".
Doing a presentation to introduce China
Search the information and details about Nanjing Massacre.
Attend a history lecture.
This week was the first week I came to Korea. All of jobs written down above make me know more about vank and Korea.
Korea is quite different from what it was in my mind. It is a right decision for me to come here, change the opinions about Korea.
There are too many things leaving me a deep impression. First of them is the historical lecture. Although I cannot understand the whole Korean lecture,I know contents they talked about by Yoo Jeong's translation. I learned this period of history in my senior high school. It is one of the most important part in Chinese history book, especially relationship between Korea,Japan and China. I didn't like history in my senior high school, like many Chinese young people. Now I know how important it is.I cannot judge the behavior government of other countries. I believe in my country.And I think one day we can solve all of these historical.
The second is Korean food. We come to different Korean restaurants at lunchtime. Korean food is really delicious for me. I cannot choose my favourite from so many kinds of food. Everything is new and fantastic for me.
I want to learn more Korean language and tell my Korean friends more about China in the future. I believe by my efforts Korea and China can get a little improvement.