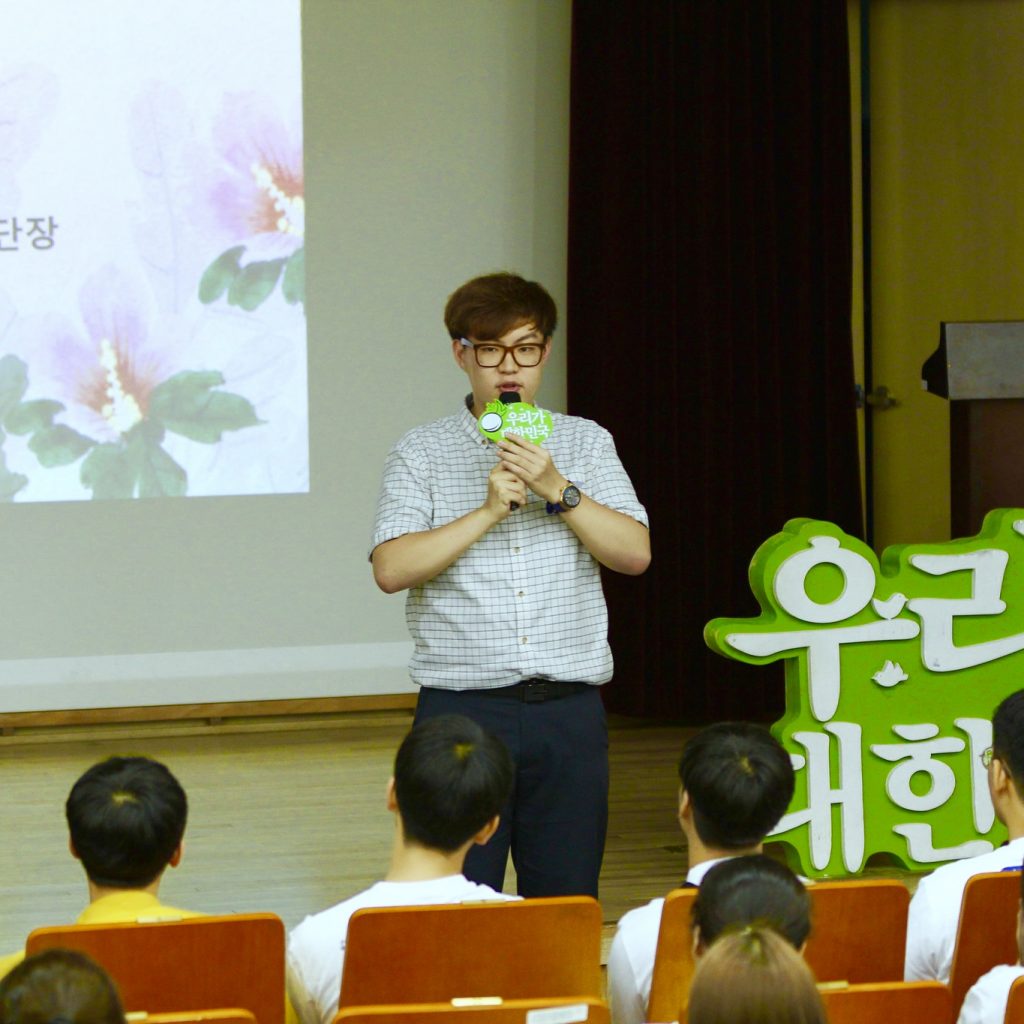 1. Please give a brief introduction for yourself.
Hello, I am Hyeonjong Kim and has been a member of VANK for nine years since 2011. I am a student studying Political Science and Diplomacy at Yonsei University, interested in public diplomacy and Korean diplomatic history.
2. How did you start interning at VANK?
People I had met through VANK who already had their experiences as an intern at VANK recommended me to take the chance when given the opportunity to work as an intern too. I applied for the internship this summer as VANK announced to select interns.
3. What were your duties as an intern?
I actually did more than I had expected. In brief, I participated in the 'Wikipedia Project' which was to make multilingual contents to upload on Wikipedia, and produced a manual that was named 'WIkipedia Korea PR Project Manual'. You may refer to the following news article link below.
I organized the reported errors on our 21 Century Yi-Sunsin Project Site (http://korea.prkorea.com). I participated as a staff on the VANK Dokdo Camp as well and made some training packets for the camp. I also did some translation works from Korean to English and vice versa in VANK conferences for Clara and Jessica, the two of five interns that worked together this summer as an intern. I gave short lectures at conferences and at Dokdo camp. Likewise, I sent letters to international presses like CNN, museums, and foreign government organizations and translated them to Korean.
4. What have you gained from your experience as an intern?
Same as the last answer, I think I learned more than I had thought. I spent most of my life at schools since the age of eight, and this was the first time for me to work at an office. I had felt like that I was almost always obligated to learn passively at school, but working at VANK taught me how to work proactively by finding the work I could do. Likewise, my English language skills have improved as I got to use more English than in my normal life. I have rarely used English in my life since when I was sixteen. I also got to learn more about American and French culture as I worked with American and French intern. Above all, I had a great time with VANK staffs and learned how to communicate well as we got along each other.
5. What was the most memorable thing you did at VANK?
The most memorable part would be the Dokdo Camp joining as a staff. Since I had been on the camp as a member seven years ago, and I stlil keep in touch with the members since then. This time, as I participated in the camp as a staff, I was very touched. Seven years ago, I just had to be responsible for myself, but this time taking responsibility for thirty students for three days was not an easy task but was the most worthwhile thing I did at VANK. Who knew that I could be at the Dokdo Camp with VANK as I did seven years ago?
6. During your internship, what were your goals and what did you and what did you learn? Did you achieve those goals?
With four other interns, we could learn and experience about Seoul and Korea day by day. Fortunately, we could spend time together by visiting the Namsan Tower, Bukhan Mountain, Seodaemun Prison History Hall, going to an exhibition, an orchestra concert, and joining the Dokdo Camp.
Above all, I, being a nine-year-long member at VANK, am proud of myself as I could materialize and diversify the concepts of VANK activities for the VANK members of the next generation as I have mentioned above at the question number three.
7. What did you contribute to VANK's goals?
Three weeks had passed quickly as we prepared and held conferences and the Dokdo camp. Working as a staff at VANK let me meet a lot of new people and I could answer other members' questions regarding VANK. Students taking part in VANK conferences are the ones who only need to participate in the conference, but I could prepare the conferences with other staffs behind the scene.
8. Any advice on VANK members, or to people who want to participate in VANK?
A ninth grader that joined VANK for nine years, passing through high school and college, I have always thought that VANK is a 'unique' organization. VANK always takes challenges and moves on toward a new goal. This is a place where they start the projects that no one ever tries, and have the vision for the future. Joining VANK is a way of loving Korea, telling the world about Korea, and making friends from around the world.
Join VANK to grow together and make dreams come true!
9. Are there any last words you would like to say to VANK?
Hope this is not my last time at VANK. (haha)
I have always said 'Good morning' when I came to work. I am happy as I could always start my day by saying 'good morning' and saying 'good evening' at the end of every day. With the expereince and memory of this summer vacation that seemed like a dream of a summer night, I will always practice what I have learned through VANK as I move forward. Thank you very much indeed!