Chen zhijun (Rebecca) – China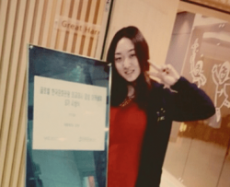 1. Please give a brief introduction of yourself.
I am Rebecca, a student in the University of International Business and Economy in China. My major is e-commerce. I am very interested in Korean history and culture. I am an intern in VANK during this winter holiday.
2. How did you start interning at VANK?
I've always wanted to know about Korea, but I thought traveling is a limited way. I tried to find another way as volunteering or interning in Korea. While I told Aiesecers about my thoughts, they introduced the VANK. I searched on the website and found it very interesting. That's how I applied for the internship.
3. What are your duties as an intern?
The first was the cultural exchange between Korea and China. I would first learn about Korean culture and history and then, I'd like to introduce Chinese culture to Korean friends. I would also analyze the similarities and differences between Korea and China. Additionally, I would find information about what do Chinese think of Korea especially on the website. By the way, My everyday work is not only to watch videos from 'Friendly Korean Community' and submit video for each video, but also teach some Chinese characters.
4. Was your internship experience as you expected? Why or why not?
I think it is the internship experience I expected. I applied for VANK because VANK is an organization which includes history, culture and international relationship. On the VANK website,   I read many VANK stories and knew more about the work in VANK.  Now I am working here for two weeks and quickly used to working here. I think I can create some experience by myself to let the next intern be more easier.
5. What have you gained from your experience as an intern?
It is the first time I have been an intern in another country's organization. There are too many things I need to learn. The first I need to learn how to express my thoughts about the whole team accurately. The second is to learn to think various perspectives of others. Sometimes I will meet some Korean people who don't know the relationship about Taiwan and China. Although it is easy for me to know Taiwan belongs to China, I need to understand them and tell them the truth patiently.
6. Describe some of your short-term and long-term goals.
In the short term I want to know more about Korean culture. I wonder why Korea and China has these historial problems and figure out what I can do for relationship of Korea and China. I also want to analyze similarities and differences between Korea and China. In the long term, I want to introduce Korean culture to my Chinese friends and change the wrong opinions about Korea of my friends.