Troy Chong – USA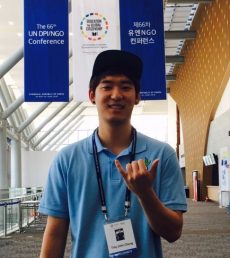 Please give a brief introduction of yourself.
My name is Troy Chong and I am a senior in the Korean Language Flagship program at the University of Hawaii at Manoa.  I was born in Hawaii and have lived in Hawaii for my whole life. This past year, I completed my capstone abroad program for Korean Flagship and also worked as an intern for VANK during that time period.
How did you start interning at VANK?
The Korean Language Flagship has a requirement of doing an internship during the 1 year abroad capstone program. Thanks to this, I was able to intern with VANK and stay with them for about a year while learning more about Korean history and culture.
What were your duties as an intern?
As an intern, my main assignments were translation work and also monitoring and updating the VANK English website. I also assisted at VANK events as a member of the VANK staff.
What was the best part of working at VANK?
There were many perks to working with VANK, but the best experiences were probably when I was able to travel to different areas in Korea with the staff. I was able to see the countryside of Korea and also partake in the different cuisines that the different Korean regions had to offer. These experiences were one of a kind and I feel that they will stick with me for the rest of my life.
What have you gained from your experience as an intern?
From this internship, I was able to learn about how Korean history has been distorted over the years and learn more about the culture. Also, I was able to see how a successful NGO operated and the kinds of tasks that they did. Finally, I feel that this internship helped me to improve my language skills and become more task focused.
Describe some of your short-term and long-term goals.
My short-term goal is to graduate with a BBA in Finance and BA in Korean Flagship by the Spring semester. My long-term goal is to use my Korean language in supplementing in the field that I plan to work in and possibly spread the knowledge about the correct information of Korea, if anyone were to state wrong, distorted facts.
Are there any last words you would like to say to VANK?
I just wanted to express my gratitude and appreciation towards the entire VANK staff for taking care of me over the year. Even though there were some unfortunate events that prevented me from coming out in the beginning of the term, the staff still welcomed me with open arms and was very considerate to the situation I was in. I will never forget the time I spent at VANK and wish them well in their future endeavors.