From May 30th till June 1st, the 66th UN DPI/NGO Conference was held in Gyeongju, Korea and the VANK staff and I had the opportunity to participate at the conference. Being that the conference's theme was about SDGs and education for becoming a global citizen, it was a perfect fit for VANK to be a part of this conference since VANK's Worldchanger education program exemplifies this theme.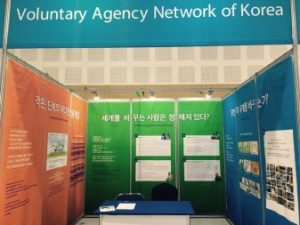 On the first day, we gathered in front of VANK and packed up all our bags and things that we needed for the conference into the car. We then started the long jouney to Gyeongju and it took us about 5 hours to reach our destination. We then got to the convention center and prepared our booth as the opening day was tomorrow. The design of the booth was really nice and stood out from many of the other booths.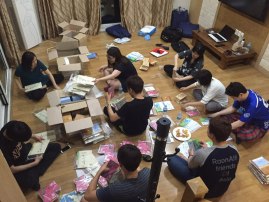 After the setup of the booth, we had dinner and then arrived at our pension. The area of the pension was really interesting because you could hear hundreds of frogs croaking throughout the night. We then held a short meeting to plan out our agenda for the next day and prepared the promotional materials that we would pass out to the participants.We then played a game of Korean jacks to decide who would have to prepare breakfast for the next day. Luckily, my team didn't lose (1 point difference) and we were able to enjoy an extra 30 minutes of sleep.
The next day was the opening day of the conference and so after spending about an hour at the booth, most of us headed to the 3rd floor of the conference to watch the opening ceremony and see UN Secretary General Ban-Ki Moon speak. After the opening ceremony, we had lunch and then worked at our exhibit.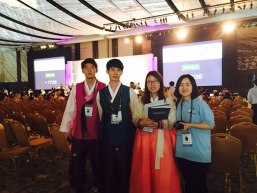 For this day, I got to wear a hanbok (Korean traditional clothing) and introduced our organization and booth while wearing it throughout the day. It was my first time wearing a hanbok and I needed some time to adjust to the clothing, but overall it was comfortable to wear and warm at the same time.
At the booth I talked about VANK's origin, history, and the present day of where VANK stands today. I also talked about the 2 education programs that VANK offers which is the Cyber Diplomacy program and the Worldchanger program. The Cyber Diplomacy education program covers Korean history, culture, and territorial and social issues while the Worldchanger education program focuses more on SDGs and global issues. Both of these programs focus on the idea that one person can make a big difference in the world, and VANK also displays this message accurately, being that it is a small organization that has already affected over 140,000 members in a mere 17 years. I also talked about the various cases where students have made a huge difference and contribution to society. One example of this is the elementary student Gwak Sangmin who is a VANK member. After making a pen pal friend from Kenya, she learned about the poverty issues that her friend suffered from and wanted to help out in any possible way. So she started to fundraise on the streets by herself and any money that she raised was sent to her friend in Kenya. Her parents were eventually also inspired to join her in her fundraising and eventually, they moved to Kenya where they established a preschool to help educate the youth. Finally, I explained about the different promotional material that were on display and about all of the different topics that they covered. The promotional material made up of videos, maps, and postcards were the core foundation for educating the VANK members and thus a very important part of VANK. Also, I asked if the person I was explaining to was interested in participating in our small event and if they were, I gave them some of our promotional material on display as a reward. 
We also arranged shifts so that each of us could explore the different booths around us. There was a lot of people of various backgrounds that came to our booth and many of them were interested in the work that our organization did. Many people also complimented the designs of our promotional material and design of our booth. I also got to meet many people from various countries and it was interesting to see everyone gather from such remote locations to meet at this one location for this conference. There were even people from countries that I had never heard of in my entire life like Tajikistan.
There were also many interesting booths around us like Peace Boat and UNAI and there were even booths where they taught you exercise routines or yoga. One of my favorite booths at the convention was Good Neighbors because they offered VR headsets to help simulate and see the actual reality that was happening in countries that were suffering from poverty, especially in the Africa region. The video I watched was about a young girl who had to work hard to create food for her brothers and sisters. The food seemed to have a pasty kind of texture and did not look appetizing at all, so it was more depressing to see that the kids had to eat nourishment like this just to survive.

There were also a various number of roundtable lectures and workshops where they covered various topics. I participated in one of the roundtables which focused on STEAM (Science, Technology, Engineering, Art, Mathematics) and how they can help create an equal education system for everyone. However, the solutions that they presented were very vague and generalized which was slightly disappointing.   At the end of the day, we ate dinner and then returned to the pension to rest for the next day.
The next day was the last day for me and a few of the VANK staff. The other half were planning to stay till the end of the conference. We arrived back at the conference center and got back to work at our booth. This day, I got to meet a professor at my home college and it was interesting and nice to see someone in full Hawaiian attire after being away from home for so long. After eating lunch at the conference center, we parted with the group that was staying and we headed back to Seoul. It was a rough journey back (6 hours…) but we finally made it back to Seoul in one piece.
Thanks to VANK, I feel that I got to experience something special and being that this was the first UN DPI Conference in Southeast Asia, it made it that much more unique. Also, seeing all the different NGOs gather in one area and show their common interests and goals made me appreciate more of the objectives and tasks that all these organizations wanted to accomplish. Even if some ideas were different, the end goal was to help create a better world for everyone to live in equally. I was glad I got to experience this conference and see all the various people from various countries gather at one spot to share their ideas for a common goal.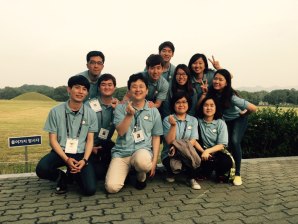 -VANK Intern (2016): Troy Chong- 2016. 6.2